Handmade World Brown Vintage Leather Backpack Laptop Messenger Bag Rucksack Sling for Men Women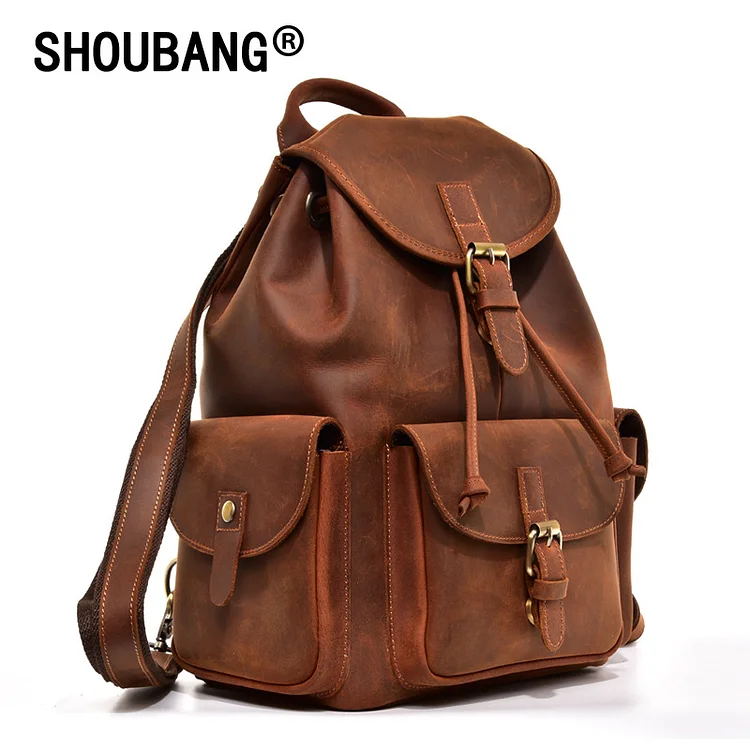 Handmade World Brown Vintage Leather Backpack Laptop Messenger Bag Rucksack Sling for Men Women
Specificatons:
Material : Leather
Color : Brown
Item Weight :1360g
Feature:
Dimension – 16 Inch High 12 Inch Width . This Brown Leather backpack has 3 internal compartments Can accommodate books laptop , 1 zipper pocket inside the bag and also 1 zipper pocket under the flap which is very useful to keep you mobile and handy stuff. Two pocket on the both side of the bag. Leather backpacks are perfect for all day use for work. A perfect Leather bookbag or Computer backpack .
Storage – Whether it is your phone, and any other important stuff you can store it in this Vintage backpack for men and you also don't need to worry about its safety because there is zipper area for safekeeping of your items. This Leather backpacks for women and men has Many pockets to keep your college books or weekend travel stuff.
Durability – This bag is made of genuine leather. This makes it softer and beautiful after you start using this. It also has strong canvas inner linings for enhancing the life of this bag. A preferred men leather backpack rucksack for all your use.
Multipurpose daypack – This genuine leather backpack for men and women can be used to carry a laptop and when you want to use it casually it can be a fashion statement for one. It can carry your essentials for a day like books, camera, sketchbook or any other stuff you would like to accompany with. Perfect for most of your purposes. Best Gift for your Self.
Tips & Tricks:
Never wash your leather bag in the washing machine.
Keep cosmetics inside a pouch or small case. Cap all pens and anything that might leak on the leather.
Avoid cleaning products with alcohol, turpentine or other mineral spirits. The only thing you need in order to care for your product, is neatsfoot oil or olive oil.
Store leather bags properly when not in use; keep out of direct sunlight and in low humidity as sunlight fades and dries leather.
If leather gets wet, absorb as much water as possible with a thick hand towel and then air dry.